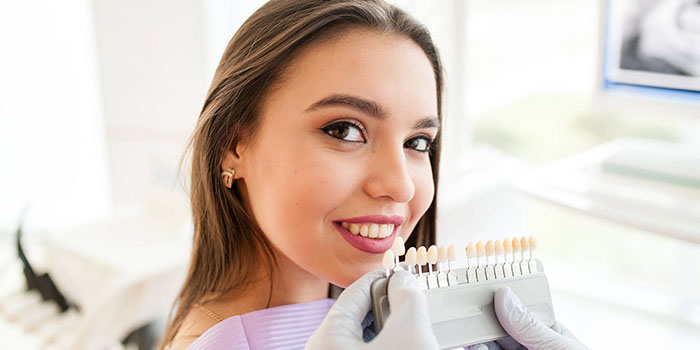 Are Veneers Right For Me?
You qualify for veneers if your teeth are healthy but gapped, chipped, fractured, worn out, or stained. Your gums must also be healthy. Veneers are one of the straightforward cosmetic dentistry procedures. They are now quite popular among adults. That celebrity you see with perfect white teeth may be wearing veneers.
What Are Veneers?
Veneers are porcelain shells that are used to cover teeth to improve their appearance. They cover stained or discolored teeth and correct the spacing of teeth in your mouth. They are designed according to the size, color, and shape that suits you. If done correctly, veneers look so beautiful and natural.
You will also enjoy the fact that veneers are durable. Once the porcelain shell has bonded to your tooth, it may last many years. They also do not stain easily, which means that you get to enjoy your perfect smile for many years.
But, several factors determine whether veneers are right for you.
Factors That Determine Your Suitability For Veneers
When you go in for a consultation, the dentist examines your teeth to determine your suitability for veneers. The dentist checks the alignment of your teeth and their health. Your back teeth's health is most critical here because it determines the health of the front teeth.
If your teeth are healthy, the dentist goes on to design and customize veneers for you. If you have any health issues, like tooth decay or poor gum health, the dentist may suggest that you treat that first before taking up veneers.
But, if you only have chipped, misaligned, discolored, or short teeth, veneers are an excellent cosmetic solution.
Veneers Are Customized To Your Liking
Know that veneers are designed to suit your facial symmetry and style. There are many designs you can choose from, too, ranging from feminine and soft to aggressive. Get a design that suits your personality. The dentist also considers how you talk, smile, and the expressions you make. All the while, the functionality of your teeth is still of primary importance.
Getting The Veneers
The process of installing veneers is straightforward. You will not need any downtime either. But, your teeth cannot all be done in a day. The dentist spreads out the work into a few appointments.
The dentist peels off a skinny layer of your tooth enamel, then takes an impression of your tooth. This modification is essential because it prevents the veneers from sticking out your teeth, looking bulky and thick. The dentist then prepares temporary veneers out of liquid composite and sculpts what your smile will look like in the end. After confirming that you like everything so far, the dentist sends you home for a two-week wait.
The dentist sends the molds of your teeth to a ceramist who makes the veneers. Once they are ready, the dentist calls you in, and with bonding cement, permanently fixes the veneers to your natural teeth.
But, by the end, you will see that your results were worth waiting for. The veneers last up to 25 years, after which they need replacing.
Find out if veneers are right for you, contact Jim Skoumal DDS in Oakbrook Terrace, Illinois at (630) 627-5355 to request an appointment.
Permanent Dental Whitening Solution
Natural teeth stain or discolor over time. When you get porcelain veneers, you can get a whitening treatment with permanent results. These restorations are ideal for patients who have the habit of smoking tobacco or drinking coffee. Porcelain veneers whiten your teeth and prevent them from discoloration. You don't need to have your dentist whiten your porcelain veneers again.
Enamel Loss Treatment
Natural enamel is strong enough to protect an entire tooth. Even so, it is also prone to wear and tear. This is when dental sensitivity starts. To protect your enamel, you can resort to getting porcelain veneers to add a durable layer of protection. Remember, the enamel layer does not regenerate. Porcelain veneers can strengthen and protect your teeth.
Veneers can help improve the appearance, structure, and function of your teeth. At Jim Skoumal, DDS, we help our patients achieve optimal health through various dental restorations. Please visit our clinic in Oakbrook Terrace, Illinois, for an in-person consultation. You can also call us at 630-627-5355 if you want to set an appointment or ask questions about our dental veneer packages.